How do I create a list of all the titles from the search?
It is not necessary to click on each title. In the column on the right, there is a button labeled "Take all Results". If you click this, all of the search results will be entered in your existing list.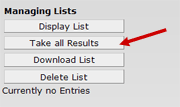 Please take note that by clicking the "take all results" button, all of the results of your search will be placed on the list and not merely those limited few titles which are currently displayed in the wide middle column.
At the bottom right of each entry on the table of results you'll find a button marked "delete from list". This allows you to remove individual items from the list. If you wish to keep the bulk of the search results, it will be most convenient to introduce all the search results into the list and then to delete those few irrelevant entries using the "delete from list" button.